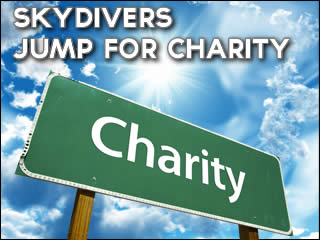 It's not uncommon to hear tons of skydiving news when people are going for world records or exciting thrills. Recently, a group of skydivers made news by jumping out of planes for a charitable cause.
Tabitha Tripp, a Marion, Rhode Island resident made it her business to make a skydiving jump to raise money for the hungry.
Tripp said she planned the dive because it's an attention grab. What better way to raise funds for a good cause?
This year's jump marks her second charitable skydive, with last year's benefiting a local organization that helps the elderly. Her most recent jump, accompanied by five co-jumpers, raises money for local non-profit Mercy Meals and More.
This organization uses its funds to provide free breakfasts to hungry residents in need of a hot meal.
The organization is in need of the funds Tripp is raising through skydiving, because outside of some small grant money, it relies fully on the financial support of the public. This is true all the way down to the donation box that sits at the front door of the Mercy Meals and More office.
Aside from a few small grants, the program depends entirely on support from the public. Money is even raised via a donations box that sits at Mercy Meals and More's door.
The skydive will also help this organization in a time of extreme need, as the program's reserve are nearly depleted, having been recently reduced to approximately $400.
Tripp's idea came organically, because she volunteers for Mercy Meals and More and was recently named to its board of directors. She picked up skydiving last year, and thought the marriage of the two worlds would be a perfect fit.
While skydiving can be fearful, she said the real life fear faced by those who are homeless and hungry is even greater.
"Look at these people that fear for their lives every day on the street," she said.
"I think being afraid jumping out of a plane is small compared to what these people must fear."
By the middle of September, Tripp had received some $3,000 in pledges. Mercy Meals and More has also used the event as a platform, having raised nearly $7,000 in additional funds to refill the coffers.
Director Russ Chamberlain said he's thankful for the attention skydiving has brought to the organization, which has helped greatly. When agreeing to the fundraising opportunity, however, he joked that the only rule he negotiated with Tripp is that she be the one jumping out of the plane and not him.
"I'm open to any kind of fundraising that can happen," he said.
Seeing the sport of skydiving take a much needed organization from the verge of having no money at all, to operating with five figures in such a short timeframe speaks to the power it holds. Outside of being a fun activity, skydivers can take their knowledge and become ambassadors in their communities, in the same way that Tripp has chosen to.