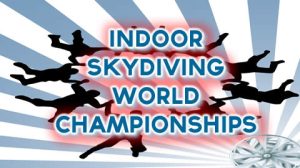 The very first Indoor Skydiving World Championship was a big success with over 400 skydivers participating from more than 10 countries and a prize packaged valued at over $120,000 USD. The competition was held at the largest indoor skydiving facility in the world at the facilities of iFly Singapore.
Fresh off a victory and a gold medal performance at the World Skydiving Championship in Dubai, team Arizona Airspeed's momentum continued in the indoor arena with a first place finish over fellow countrymen SDC Rhythm XP who took second. The Canadian team, Evolution, finished in third place at Indoor Skydiving World Championship in Singapore.
In the Freefly, U.S.A. team, Antigravity XP, took first place followed by Singapore team, 2 Legit 2 Quit, in second place. Team Renegades with members from the United Kingdom and France came in third.
There were also several Guinness World Records attempted and broken at the iFly Singapore Skydiving event. A new skydiving world record was attempted for most people flying in a wind tunnel at one time. 18 flyers flew in a belly flight position for over 10 seconds. No official record currently exists for this feat.
Kids from Singapore and India set a record for the most number of children in the tunnel.  Thirteen joined hands and set the new record.
Russian Skydiver Mikhail Razomazov flipped through the air speedily doing 52 backward somersaults in one minute, demolishing the current record of 16. A ten year old from Singapore's Team Firefly, Kyra Poh, was right on Razomazov's heels with a respective 43 backward somersaults.
28 year old iFly Singapore instructor Ezriel Shah Rahmat broke the record for longer indoor free fall. The current record, set by Matthew Freese on May 8, 2012 in California was 3 hours, 1 minute and 46 seconds. Rahmat's freefall lasted for 4 hours, 2 minutes and 12 seconds, breaking the previous record by more than an hour.
Finally, 13 children from Dubai and Singapore flew hand in hand and set a new record for the most children flying in a wind tunnel.
The indoor skydiving sport is growing in popularity and as more people try the sport, these competitions are sure to become more common. ESPN covered this event and teams from the US competed.  Expect to see even more world records in indoor skydiving in the near future.
For those who want to experience the feeling of skydiving without the risk, there are indoor skydiving locations throughout the United States and Canada.  Equipment and training is provided.  Locations have different age and weight requirements, but most allow children to experience the thrill of skydiving without the risk.
Competition Results
4-way Formation Skydiving (Open)
1st Prize: Arizona Airspeed (USA) // 2nd Prize: SDC Rhythm XP (USA) // 3rd Prize: Evolution (Canada)
4-way VFS (Open)
1st Prize: SD Nexus (Dubai)// 2nd Prize: Evolution (Canada)// 3rd Prize: Arizona Arsenal (USA)
Freefly (Open)
1st Prize: Antigravity XP (USA) // 2nd Prize: 2 Legit 2 Quit (Singapore) // 3rd Prize: Renegades (UK/France)
NeoFreestyle (Open)
1st Prize: Mikhail Razomazov // 2nd Prize: Guillaume Boileau // 3rd Prize: Jonathan Townsager
---
For complete scores of this event visit this website.
For more information on this event visit the Indoor Skydiving World Championships website.