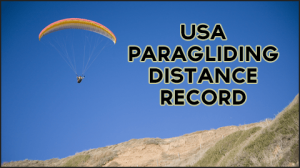 The summer months bring warm weather and thermals that are conducive to record-setting events in air sports.  This summer is no different with a new record being set in the US for the longest paragliding flight.  The previous paragliding record was set just last year by Jon Hunt and Nick Greece, but Gavin McClurg shattered the record in his recent flight in July.
The 41-year-old set the record for the longest flight, which lasted 240 miles and took seven hours.  He was accompanied on the flight by his wife who introduced him to the sport.  McClurg launched from Bald Mountain, Idaho and landed near Helena, Montana at Canyon Ferry Lake.
The flight consisted of crossing rough mountain terrain, which added an element of concern to an already dangerous sport. The views were spectacular going over the mountain ranges of the western states, and the high elevations, wind shears, and intense thermals made the trip exhilarating and filled with adrenaline.  McClurg reached speeds of over 30 mph and made climbs as high as 8 meters/second.  His highest elevation reached 18,000 feet.
These mountains aren't often visited by paragliders, which made the trip that much more unique.  McClurg had an eventful week setting two personal records before this flight.  Near the end of the flight he was just about 100 feet off the ground and thought he would need to land.  It would have matched one of his personal bests but fall short of the US record.  Luckily a thermal gave him some lift and he was able to soar past the previous record.