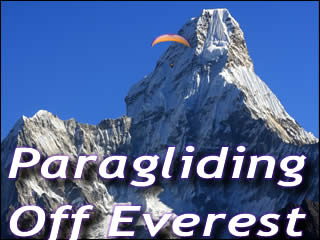 When Babu Sunuwar climbed Mt Everest on May 21st, 2011, he did not do it for the view, although when he reached the summit he probably did enjoy the view that less than 2500 climbers have, but instead his goal was to fly off the top of Mt Everest in a paraglider with a co-pilot, Lakpa Tshering Sherpa who is an experience Everest climber.
Instead of flying to base camp, Babu and his tandem rider flew to an airstrip at Syangboche about 20 miles from the Mt Everest. Total flight time was just over 42 minutes. This descent was all part of Babu's plan for a summit-to-sea attempt in which he would fly a paraglider, navigate a kayak and ride a bike to sea level in Bangladesh.
Babu's flight from the summit of Mt Everest was not the first pilot to accomplish this feat. A Frenchman Jean-Marc Boivin launched a paraglider in 1988 from the summit and flew down to base camp in an eleven minute descent.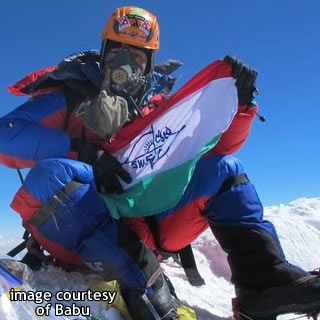 Mt Everest Quick-facts
Mount Everest is named after the first Survey General of India, George Everest who first surveyed the Himalayans in the early 1800′s.  The name was suggested by Everest's successor to Survey General. Everest objected to naming the mountain after himself because the local language did not have a direct interpretation for his name.
It was first summited by Sir Edmund Hillary on May 29, 1953 and his guide from Nepal, Tenzing Norgay via the southern route.
Over 2400 people can claim they have reached the top. Most climbers attempt to reach the summit in May while the jet stream is pushed north of the mountain.
Over 200 people have died while climbing Everest and over 120 bodies still remain frozen on Everest. The highest cause of death on Everest is avalanches.
https://www.youtube.com/watch?v=fKBLotTKSE0