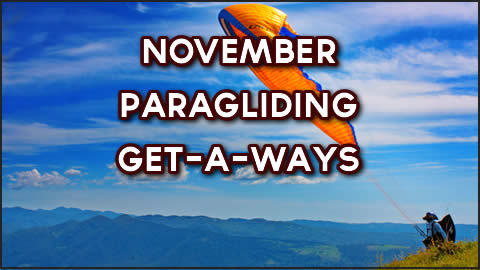 The month of November has many paragliding events that are taking place south of the border. These are great opportunity for those looking to fly a while longer while the weather is getting cooler.
Chile 2012
This event takes place on various dates in November in Iquique, Chile. If you want a great place to catch thermals that take you overs the Pacific Ocean and sand ridges, then this is the place for you to be. Your guides for your excursion are multiple Iquique XC competition champions Luis and Todd. The pilots for this paragliding trip often accumulate more time in the air than at any other destination. Pilots are able to fly every day.
Fly Mexico Tours
The Winter Flying Paradise at Valle de Bravo in Central Mexico is a great place if you are interested in hang gliding and paragliding. Tours run from November 15, 2012 through March 31, 2013. If you plan on an exciting Mexico trip, then your week will run from Sunday through Sunday.
The event for 2012 is the tenth edition of this competition and takes place at Oaxaa, Mexico between November 16-19. If you are a PG pilot, then you are invited to attend and fly at this competition,. This is one of the best places you will find in Mexico for XC.
Fly Atacama Desert Paragliding Adventure
This trip is offered November 6 through November 13 and November 15 through November 22. If you are planning a trip to Iquique, Chile in South America, then this is the place to be flying over the driest desert in the world. This year will be the fifth consecutive trip to Iquique, Chile. Pilots of all levels are able to fly many miles and catch numerous thermals. You will also be in the company of Jarek Wieczorek.