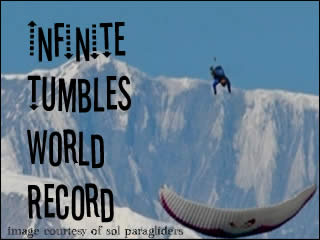 There is a new paragliding acrobatic world record. Two time World Cup Champion, Horacio Llorens from Spain, has set a new World Record for Infinite Tumbles, one of the most difficult paragliding acrobatic maneuvers.
Horacio jumped from a helicopter in the Himalayans at 17,000 feet MSL and performed 281 revolutions in his Sol Paraglider. This broke the old world record by 71 revolutions set by Chrigel Maurer who completed 210 revolutions in Germany in June earlier this year.
Novice and beginner pilots should be aware that the difficulty in this acro is the exertion on the body caused by centrifugal force. Each revolution in the tumble can cause the pilot to feel up to 6 times the force of gravity which might cause an inexperienced pilot to blackout or become disoriented by lack of oxygen being delivered to the brain.
Below is the video documenting Horacio's heroic world record. Caution: This video is not advised for those who get nauseated on the merry-go-round…