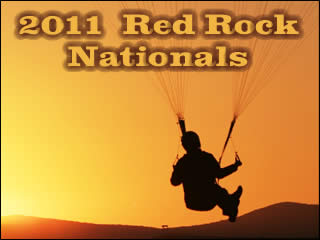 The first half of the 2011 U.S. Paragliding National Championship was held between July 24th and July 30th in Richfield, Utah.
Dean Stratton took top honors with Eric Reed and Hayden Glatte placing in 2nd and 3rd.
"Mean Dean Stratton" is the 2007 and 2008 U.S. Paragliding National Champion. Dean will need to have a good showing during the second half of the nationals at The Lone Star Nationals (August 14-20) in Hearn, Texas.
Official Results
With the recent ban of competition class paragliders by FAI at  Category 1 sanctioned events, the USHPA required all Category 2 pilots take a mandatory safety seminar before being allowed to fly.
After reviewing the circumstances leading up to CIVL's actions, USHPA has determined that, while the pattern of accidents at CIVL Category 1 events that apparently lead CIVL to ban competition class paragliders at those events should not be ignored, there is no evidence to indicate that the accident rate for competition class paragliders in USHPA sanctioned events is materially higher than the rate of accidents for serial class and other certified wings. USHPA will continue to allow competition class paragliders to compete in USHPA sanctioned Category 2 events. However, USHPA will require all pilots intending to fly in these events to participate in a mandatory special safety seminar at each sanctioned competition prior to the start of the event. These seminars are intended to fully disclose what is known about the inherent risks involved in flying competition class paragliders and discuss ways pilots can mitigate these risks. Pilots flying competition class paragliders will be required to have minimum levels of experience. All pilots participating in these competitions will be required to agree to the USHPA release, waiver and assumption of risk agreement on video and represent that they have the required piloting skills and understand these risks.