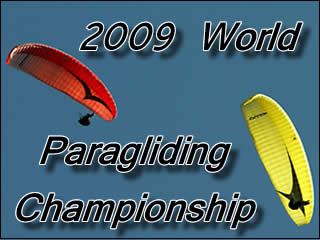 The 2009 World Paragliding Championship was held in Valle de Bravo in Mexico with 148 pilots. Their competition consisted of 10 tasks flown between January 25th and February 6th, 2009.
Top individual honors was awarded to Andy Aebi of Switzerland followed by his fellow countryman Stefan Wyss with Aljaz Valic from Slovenia taking third. Top team finishes went to Czech Republic, Italy, and Slovenia.
American pilots were kept out of the top 10 individual rankings but placed a very respectable 5th of 44 in the team rankings. The top USA pilot, Matthew Beechinor, had an impressive 10th task with the highest score for this 116.9 KM trial which gave him an overall individual finish of 20th. Other USA team member contributing to the success were Brad Gunnuscio (27th overall), and Eric Reed (29th overall).
American four time US Paragliding Champion, Kari Castle, finished in 5th place overall in the women's division on her Up Edge paraglider.
| Task | Name | Distance |
| --- | --- | --- |
| T1 | worlds2009 t1 | 74.5 km |
| T2 | worlds 2009 t2 | 91.7 km |
| T3 | worlds 2009 t3 | 94.6 km |
| T4 | worlds 2009 t4 | 83.9 km |
| T5 | worlds 2009 t5 | 114.7 km |
| T6 | worlds 2009 t6 | 87.5 km |
| T7 | worlds 2009 t7 | 97.4 km |
| T8 | worlds 2009 t8 | 114.6 km |
| T9 | worlds 2009 t9 | 106.5 km |
| T10 | worlds 2009 t10 | 116.9 km |