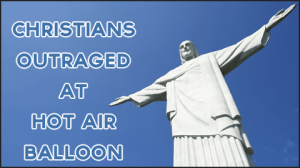 An Australian gambling firm called Sportsbet recently caused hot air balloon news and no little outrage when it sent aloft in the skies over Melbourne a 151 foot tall hot air balloon in the shape of the Christ the Redeemer statue that stands on a peak over Rio de Janeiro to kick off the 2014 FIFA World Cup soccer tournament that was held in Brazil. The balloon, which like the statue depicted Jesus Christ with outstretched arms, wore an Australian football jersey with the caption "#KeepTheFaith." The hot air balloon was actually 53 feet taller than the actual statue.
Members of the Australian faith community criticized he publicity stunt as being sacrilegious. It equated the founder of one of the world's largest religions with gambling, something that many believing Christians disapprove of. The association of religion with advertising was also thought to be inappropriate and arrogant.
Sportsbet responded that the floating ad was meant to render support for Australia's nation soccer team, the Socceroos, and hardly represented an affront to religion or arrogance as charged. The company tweeted, "Arrogance would have been putting the World Cup trophy in his hands." Australia went on to be eliminated from World Cup competition by Spain 3 to 0.
This is not the first time Sportsbet has caused controversy. In order to promote a rugby match between Australia and Great Britain, the company erected a sign near the Melbourne airport depicting a lion and a wallaby, the animal symbols of Britain and Australia respectively, having sex. The sign was accompanied by the hashtag slogan, "#ROOTINGFOROZ."