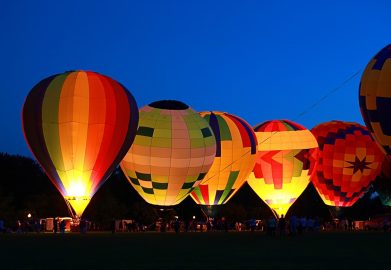 Balloon pilots are gearing up for the Hudson Hot Air Affair, one of the premiere winter hot air ballooning events.
The annual event in Hudson, Wisc., is a ballooning event and winter festival that attracts thousands of visitors to the St. Croix Valley in western Wisconsin. More than 40 balloonists are expected to join the festivities for this year's event which is set for Feb. 1-3.
This year marks the 24th anniversary of the event which started in 1990 under the auspices of the Hudson Area Chamber of Commerce. It is now managed by Hudson Hot Air Affair, Inc., a nonprofit, community volunteer organization.
In addition to balloons, the Hot Air Affair includes a wide range of colorful, fun events including a torchlight costume parade, marching kazoo bands, smooshboarding and a chili cook off.
The event will include mass launches on Saturday and Sunday mornings and a Saturday night Moon Glow.
This annual festival is popular with balloon pilots from the area (Wisconsin, Minnesota, the Dakotas, Iowa, Illinois and Nebraska) and each years draws pilots from as far away as New Mexico, California, Texas and other states.
Sponsors conduct a number of events and programs leading up to the annual Hot Air Affair, including programs and contests for children, workshops, a candlelight ski and hike. The group also conducts a ballooning education program that includes classroom programs in area schools.
The theme for this year's event is "Majestic Flyway." The program will also include a variety of entertainment from music to dancing, family fun events, and crafts and art.