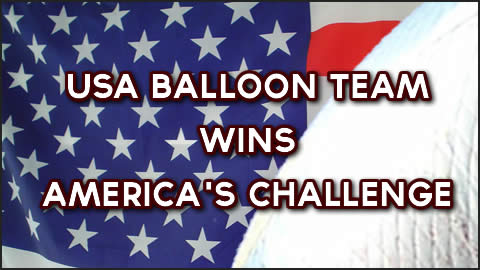 The American team of pilot Cheri White and co-pilot Mark Sullivan are the unofficial winners of the America's Challenge gas balloon race.
White and Sullivan along with four other teams launched their balloons on Sunday evening, the weather-delayed opening day for the 41st annual Albuquerque International Balloon Fiesta.
The pair landed safely on Wednesday near Buelaville, N.C. The flight covered 1,627 miles (2,618 km) and lasted almost 64 hours, making it the fourth longest flight in the Challenge's 17-year history. It also marks the second win in this event for Sullivan and White. They also claimed victory in 2008.
The Russian/German team of Leonid Tuykhtyaev and Wilhelm Eimers landed their balloon in Elkton, Va., completing a 1,555-mile (2.500 km) flight and getting the mark for the fifth longest flight in race history.
Another U.S. team, two-time winners (2001 and 2010) Peter Cuneo and Barbara Fricke, flew 1.455 miles (2,342 km), landing near Ridgeland, S.C., close to the S.C./Ga. border to get third place. The effort was a personal best for the team.
Brits Jonathan Mason and Clive Bailey claimed fourth place with a flight of 1,054 miles (1696 km) that ended near Sturgis, Ky., and Americans J. Michael Wallace and Kevin Brielman, whose flight ended south of Des Moines, Iowa, after 780 miles (1255 km) rounded out the field.
The top three teams were all aloft for more than 60 hours. Sullivan and White flew for 62.19 hours, Tyukhtyaev-Eimers for 61.19 hours and Cuneo-Fricke for 62.04 hours.
These standings are unofficial. The positions and times posted are estimates and do not take into account race deductions or other factors.