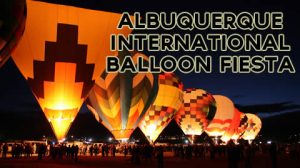 As beautiful fall weather breaks across the Sandia Mountains of New Mexico, balloonists from all over the world are rallying in Albuquerque for the 42nd annual Albuquerque International Balloon Fiesta.  The event runs from October 5th to October 13th, 2013, and is the world's largest hot air balloon festival.  It includes approximately 600 balloons.  Visitors and participants number in the thousands.
The Albuquerque International Balloon Fiesta's theme this year is "Enchanted Sunrise", a title that may pay tribute to one of the festival's premiere events, the "Dawn Patrol".  During this event, pilots utilize their positioning technology to take off while it is still dark, only landing after the sun has come up.
Many events are scheduled throughout the week, and there are even a few leading up to the festival, such as balloonists working with local elementary school children.  The "Mass Ascensions" are probably the most highly anticipated event at the festival, with hundreds of balloons taking to the sky at once in a vivid burst of color.  There are also competition flying events, in which pilots navigate their balloons carefully and attempt to drop markers on targets.  Ring Tosses and Prize Grabs can also get competitive.  Additional events include races, balloon glows, music, and fireworks, with slots in some events for special shaped balloons only.
Aside from the great events is the opportunity to mingle with balloon enthusiasts and get hot air balloon news firsthand.  For a look at the online version of the full-color, 124 page brochure, visit the Albuquerque International Balloon Fiesta guide.  Be there if you can.