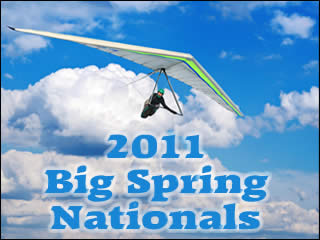 The 2011 U.S. Hang Gliding Championship took place between August 14 – August 20, 2011 in Big Spring, Texas.
This year's championship had 33 pilots that flew, almost double the eighteen that competed in last year's competition.
Zac Majors, the 2008 US National Hang Gliding Champion flew into first place on the last flyable day of the comp, edging out David Straub by 40 points.
Zac has been flying for 17 years and his most notable achievements since taking the 2008 US National Championship was finishing in 2nd in the 2009 National Championship and 4th place in the 2009 World Hang Gliding Championship.
Complete Results