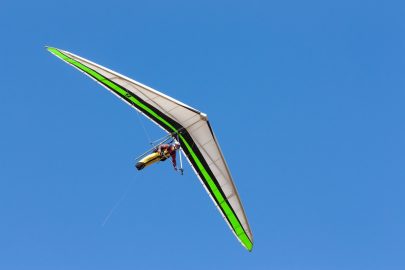 The 19th Annual World Hang Gliding Class 1 Championship are going to be taking place in Forbes, New South Wales, Australia in January. The competition, held from January 5 to January 18 will host the world's top hang glider pilots.
Forbes, New South Wales, is growing in popularity as one of the top hang gliding destinations world wide. The region, known for its thermal producing skies and flat terrain, is a place to push boundaries and set records.
Due to the lack of mountains or hills to start from, pilots will be towed aloft by ultralight aircraft up into the thermals. The planes, Moyes Dragonflies, are piloted by experienced tug pilots who get pilots up and flying quickly. The daily tasks will vary in distance and location depending upon the prevailing wind directions and probability of thermals being created along the proposed flight path. Points are awarded based on a speed section of the course, where pilots will be timed. Individuals are placed based on personal point totals and countries are placed according to the cumulative score of their top four team members. Scores will be updated after each day of the competition and posted at www.forbesflatlands.com.
While this is the first time the World Hang Gliding Championships are being held in Forbes, it's certainly not the first competition to take place there. The Sydney Hang Gliding Club hosts annual events in the fields of Forbes and FAI held the Hang Gliding Pre-World Forbes 2012 there in January of this year.
One hundred and eight pilots from 23 different countries will be participating in the event. The number of pilots from each country varies with some countries only represented by one pilot. The United States will be sending eight pilots, tying Australia for the largest team. The U.S. team is ranked 8th in the world. Their top four team members are Robin Hamilton, Kraig Coomber, Dustin Martin, and James Stinnett, ranked 38th, 43rd, 57th, and 58th in the world respectively.
Forbes is located in the provence of New South Wales and is a 5 hour drive from the Sydney airport. The rural town is home to Lake Forbes and Lachlan River as well as McFeeters Motor Museum and the Central West Livestock Exchange. Visitors to the area have the chance to sample local food and art in the many cafes, restaurants and galleries in town.
Something to look out for if you're traveling to Forbes for the competition: summer temperatures in Forbes range from 90-95 degrees Fahrenheit, making the adjustment slower for pilots coming from winter temperatures in the Northern Hemisphere.
Video About Forbes https://www.youtube.com/watch?v=NO0FUDF2cYk