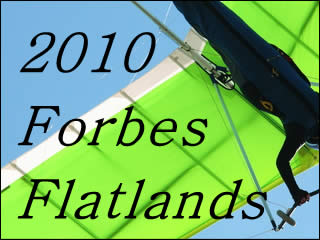 The 2010 Forbes Flatlands Hang Gliding Championship was held between the 3rd and 12th of January in Forbes Australia. The weather was so good that a task was at least started every day except for the final day. After nine days of great flying the last day was called off due to pilot fatigue as voted by the pilots.
Flying in his home airspace, Jonny Durand outpaced the rest of the pilots to claim 1st place in the 2010 Forbes Flatlands Hang Gliding Championship. Jonny is currently ranked as #1 pilot in the CVL World Hang Gliding rankings.
American pilot Zac Majors on his Wills Wing T2C finished an impressive third place in the overall results. Last year's Forbes champion, Blay Olmos, finished in 9th overall.
On day three of the competition, an unexpected gust front slammed through goal as seen in Jonny Durand's video:
Special thanks to Jonny Durand for use of his video and images.