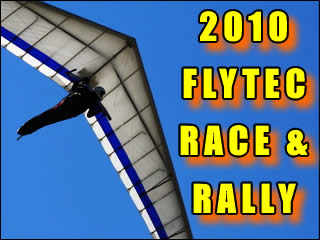 The 2010 Flytec Race and Rally was held between April 25 and May 1, 2010.
The event consists of 7 days of cross-county flying with each day having a different point of departure and a different place to land. Unlike last year, this year's event has no set route. The next day's task will be decided by event coordinators depending upon the local weather. Last year's rally was scheduled to fly from the Florida Ridge to Lookout Mountain Flight Park but was canceled due to bad weather on day five of the rally.
The first task started at the Florida Ridge Hang Gliding Park. Dustin Martin won the first task from the Ridge to Okeechobee.
With days 2 and 3 canceled for unfavorable flying conditions it was looking like it might be a repeat of last year.
With the bad weather behind them, day four's task from Quest Air still left Dustin Martin in 1st place. Aussie Jonny Durand was still in second and Zac Majors in third.
But in the end, Jonny Durand of Australia took the top spot by edging out Dustin Martin by less than 8 points. Third place went to Zac Majors.
Complete results can be found at
Video courtesy of Jonny Durand
Meet the Rally Pilots
Day 1 Video
Day 4 Video
Day 5 Video