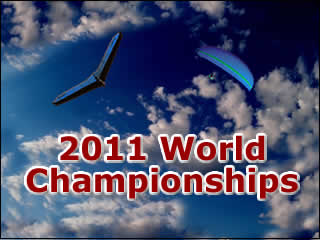 The host cities of World  Championships of Hand Gliding, Paragliding, and Paragliding accuracy has been announced from the CIVL Plenary board. The 2011 World Hang Gliding Championship host cities will be Sigillo and Montecucco in Italy, edging out Forbes, Australia. It took four rounds of debating and voting before Italy edged Forbes by a vote of 16 to 13.
The 2011 World Hang Gliding Championships take place from July 16-30 at Mount Cucco, Mount Subasio, and Mount Gemmo, all be hill launch sites.
The Paragliding World Championship will be held from July 3-15 in Piedrahita, Spain, a site well known amongst competition pilots.
The Paragliding Accuracy Championship will be held from July 24-31 in the Beskydy mountains near Kunčice pod Ondřejníkem, in the country of the Czech Republic.
CIVL (Commission International de Vol Libre) is an organization which regulates and promotes international hang gliding, paragliding, paragliding accuracy, and aerobatic competitions through out the world. They are responsible for tracking and confirming world records.