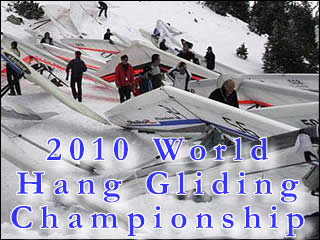 The World Hang Gliding Championship was held in Tegelberg, Germany from May 8th to May 22nd, 2010. Probably a more appropriate title for this story is the "Championship That Wasn't".
Bad weather including rain and snow caused a cancellation of flying for the Women's World Hang Gliding Championship everyday of the event. The women did not get to fly one task causing there to not be a champion crowned this year.
The only female pilot from the USA to participate, Linda Salamone from Rochester, New York has the unique distinction of being tied for 1st place with 20 other pilots. Too bad they will have to wait two years before the next world championship will take place.
While the women were playing in the snow and hoping for a mountain launch, the class 2 swifts had a little better results in the valley below while towing. With different weather in the valley, the swifts managed to fly three tasks. Manfred Ruhmer of Austria took his 5th consecutive class 2 World Championship. He was followed by Steve Cox of Switzerland with Bob Baier of Germany taking third place. Veteran Swift pilot Brian Porter from the USA finished in 5th place.
Links:
Class 2 Results
Past Womens Champions
Past Class 2 Champions