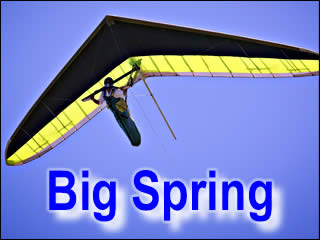 The 2010 US Hang Gliding Nationals was held at Big Spring, Texas between Sunday August 15 to Saturday August 21, 2010.
In all, 18 pilots took part in this year's competition. Notably absent was Dustin Martin, Jeff Shapiro, and Jeff O'Brien, all being members of the US Hang Gliding team.
Larry Brunner held the overall lead for 6 days in a row when Zac Majors took the last task and the championship title. Zac managed to have a top 3 finish every day except for day one.
Campbell Brown out flew fellow competitor James Yocam for the Rigid Wing title.
In the sport class, Patrick Halfhill flew away with the title by a large margin.
Competition Results
Flex Wing
Rigid Wing
Sport Class
Spot Landing Contest by David Glover